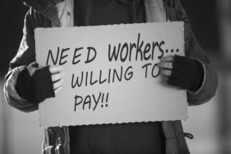 Image credit: atyourpaceonline.com
The science fiction author Robert Heinlein is quoted as having once said, "Cheop's Law: Nothing ever gets built on schedule or within budget." The modern-day ending to that quote might be, "Especially if you can't find the workers."
In America today, one of the greatest challenges facing construction contractors is finding and retaining skilled construction workers. According to August 2017 posting by the Associated General Contractors of America, 70% of construction firms say they are having a difficult time filling positions. The post goes on to say conditions are most severe here in the west. Over 75 percent of the contractors in states like Oregon, Washington, and California say they're experiencing shortages of skilled hourly workers. All this, at a time when construction demands are actually rising.
Why?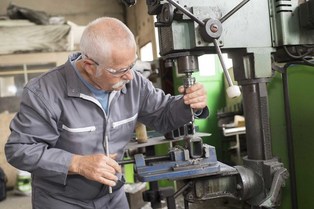 Image credit: atyourpaconline.com
According to industry experts, until 2010 the construction market was made up of two generations of workers. These generations were generally referred to as Traditionalists and Baby Boomers, but beginning in about 2012, the workforce split into four generations. Now the construction workforce is comprised of Traditionalists, Baby Boomers, Generation Xers, and Millennials. Currently, the bulk of the construction industry's skill and experience belongs to the Traditionalists and Baby Boomers, but as they age, that advantage in knowledge and skill is beginning to fade.
Along with skill and knowledge fading, workers who might have been building skills in the construction trades are moving to other sectors of the workforce. This could be due to shifting national priorities in the workforce, such as a drop in the numbers of vocational training and mentoring programs, as well as workers moving into other careers when the recession impacted the construction industry. Young people are increasingly being told they need to go to college, and with school budgets being cut some of the first programs on the chopping block are shop, vocational classes and even contractor education. The flip side of this is the cold hard fact that Traditionalists and Baby Boomers are retiring in growing numbers, and taking their skill, experience, and work ethic with them. Increasingly, many experts in the field believe there may be a deeper reason for the shortage of competent workers: A change in the work ethic of workers entering the force is contributing significantly to the shortage.
Why Should I Work Hard?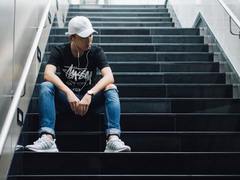 Image credit: pixabay.com
In a February 2016 article in Psychology Today, entitled "Do Millennials Have a Lesser Work Ethic?", Jean M. Twenge Ph.D. says, "In fact, the science does support the idea that Millennials have a lower work ethic." She goes on to quote a study that has been ongoing on since 1976, in which Millennials' answers were compared against Baby Boomers and Gen Xers regarding work ethics. The study revealed that when it came to Millennials not wanting to work hard the percentage was higher. 26% of Boomers said they did not want to work hard, compared to 30% of Gen Xers and 38% for the Millennials. When the study asked if they were willing to work overtime, the answers were again telling: 59% of Baby Boomers were willing to work overtime as compared to 56% of Gen Xers and 47% of Millennials. Twenge said, "Millennials are still more likely to say money is very important and that they want to buy expensive things." Twenge went even further, saying "This is an entitlement—so it's not surprising that's the word on everyone's lips in discussing this problem." In a time when building throughout America is getting stronger, this should be a wakeup call for industry leaders and educators that we need to change the culture.
Can We Change the Future?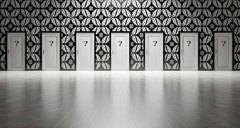 Image credit: Wikimedia commons
First of all, it should be remembered that this does not represent all the Gen Xers and Millennials in the workforce. In reviewing the statistics above, it should be pointed out that 38% does NOT represent the majority, but there is still cause for concern in the residential construction industry, especially here in Oregon and throughout the West. The number continues to grow. So how do we change it?
The first thing those involved in the industry might want to do is more to get the word out there that once an individual has gone beyond the training or apprentice phase, the average hourly wage is fairly high depending on factors like geography and areas of specialized skill. This might be an incentive for those wanting to work less.
For instance, in mid-2016, average wages for experienced electricians in Oregon were roughly $32.00 per hour (About $2.00 an hour more than both California and Washington). The average hourly wage for experienced plumbers was about $35.00 per hour. This is without a college degree, and without student loan debt. In a time where the young workforce is already drowning in student loan debt before they even start, this is a strong argument to help attract new talent and to help change the current culture.
Another good example of what can be done to reverse this trend is occurring throughout the nation right now. Members of the construction and housing industry are working together with educators and administrators to create a curriculum designed to cater to students who might be inclined to become skilled in the trades or not care to go on to college.
The Home Builders Institute designs construction and training employment programs throughout America in partnership with governmental, educational, and building organizations. While much of the media coverage for these expanded vocational programs are going to public schools and vocational curriculum, the HBI has also widened its scope to include programs specifically aimed at ex-offenders and veterans. For a description of what is being done with these types of programs, follow this link.
But what about now?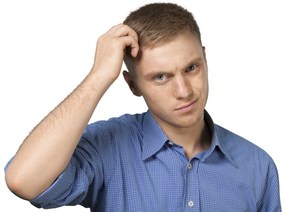 Image credit: pixabay.com
We've seen what those in the industry are doing about the future, but what can be done right now to ease the burden on contractors, especially in the west and here in Oregon? One of the first and easiest fixes is for those the industry is to stay involved with government and trade organizations. Although many contractors may not think it's worth the effort, it is the one way we can actively participate in any changes taking place.
Next, we have to think a bit out of the 'contractor' box. We have to put our human resources thinking caps on and look at it from an employee's point of view. How can we keep our long term employees? After all, these are the workers with the most experience. In a phrase, make the working conditions better. This doesn't necessarily mean increasing wages. Many companies and contractors are becoming much more flexible with working hours. Providing long term workers with more time off or a flexible work schedule can lead to increased job satisfaction. The same goes for benefits. This is an area where some creative thinking can go a long way toward retaining your best workers. Now, what can we offer new employees?
One idea that costs virtually nothing, is giving less experienced employees the one thing they need most to move up in a career field, knowledge. If contractors approach their new employees as mentors offering to share their knowledge and experience, the employee gains valuable insight and a loyalty bond is created as well. The other things that are a bit more difficult are monetary in nature. It's an obvious axiom, that more money attracts better and more long-term employees. If a contractor in Oregon is worried about keeping the good workers that come along, but they can't afford to start them out with high pay, negotiate with them for raises at shorter intervals, especially in rural residential construction which is always conditional upon seasons and weather.
Conclusion
Image credit: pixabay.com
It's a fact that the labor shortage is one of the biggest problems in the construction industry today, and it's believed that part of the problem is that we can't find the right employees. What's also a fact though, is most construction contractors can be pretty crafty about tackling problems. If the residential construction contractor is open-minded and creative, they can find the employees they need, and they can keep them while helping to change the culture of the modern worker.
Chuck Rehdorf is a researcher and original content writer for At Your Pace Online. He was also employed for a number of years as a residential electrician. AYPO offers continuing education in many areas, in addition to specific classes for CCB licensing. If you're looking for quality online courses for Oregon contractors, as well as other states AYPO offers recognized continuing education classes across the nation.